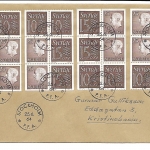 Lots sent:
6
Lots received:
6
Lots in progress:
1
Stars received:
5.00
Country:
Sweden
Languages:
English
Member since:
13 October 2020
Last activity:
30 April 2021
Hello everyone,
You will find me in the South parts of Sweden close to the Baltic sea.
I have been collection stamps for many years and have a lot of stamps and FDC, covers for exchange from many countries.

I collect Br. colonial stamps,French colonial stamps, Aruba, Estonia, Islands belonging to Australia, Singapore, Malaysia and old covers from these countries.
I always like old and stamps in god condition.

I have a lot of stamps from Sweden (1855-2015) and many other countries for exchange and FDC,
postcards and MAXI cards.


Exchanges outside the club are wellcome.

Please don´t send any damage stamps. If you send CTO stamps send a complete set.
Please use nice stamp on your envelope when you send stamps or if possible, use a mini sheet.
If I have mini sheets, I use them as postage.