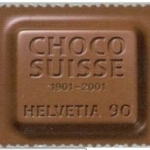 Lots sent:
12
Lots received:
8
Lots in progress:
4
Stars received:
4.75
Country:
Thailand
Languages:
Deutsch, Français, English, မြန်မာ
Member since:
29 October 2021
Last activity:
13 August 2022

DanielFrei is a club supporter
100 different used stamps = 1 Country please :-)

If you have used Helvetia or Thailand stamps but not stamped (mint) you can send them also. I can use them to send them again.

Only send me stamps that are in good condition, no duplicates.
Simply the same quality and year's issues that you would like to receive yourself.