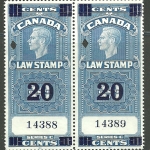 Lots sent:
205
Lots received:
209
Lots in progress:
0
Stars received:
4.99
Country:
Canada
Languages:
English
Member since:
25 February 2018
Last activity:
04 February 2022
Worldwide collector.
I collect just about anything in regular postage, back of the Book, small and large.I would like to receive large stamps if possible but I don't mind a few small. I am easy to please. All I want is a good solid stamp with no damage and not heavily cancelled.

If possible I would be happy to receive stamps from Croatia, Latvia, Lithuania, Slovakia and Slovenia

I do not need any Canada unless they are from last 4 or 5 years.
I do not need any USA unless from the last 5 years.

I have for trade hundreds of stamps from all over.
Small countries not so many but larger countries quite a few.
I can send Canada/USA/GB/NZ/Germany and many more.

I would prefer 100 from your country if possible but will accept others.

If you don't want small I don't send them.
If no preference then I will send some but never more than 20 percent (20)
If no preference I will most likely send Canada.