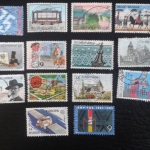 Lots sent:
134
Lots received:
135
Lots in progress:
0
Stars received:
4.74
Country:
Belgium
Languages:
English, Français, Nederlands, Deutsch,
Member since:
15 August 2015
Last activity:
25 May 2018
I collect used commemorative (large) stamps from your country and I am especially looking for stamps from Israel, New Zealand, Latin American countries, African countries, Philippines, Malaysia, Indonesia. But any other country is OK.

I am now especially looking for stamps from Cuba (CTO's are OK)

I also want to exchange for Baltic States, Czech Republic, Slovak Republic, Moldova, Ukraine, Byelorussia, Russia (USSR - before 1963, CTO's are ok)

I send only large commemorative used stamps (unless it fits in your request, e.g. birds)
Please do not send definitive stamps.