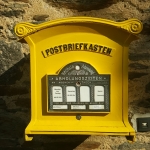 Lots sent:
65
Lots received:
69
Lots in progress:
0
Stars received:
4.60
Country:
Germany
Languages:
Cebuano, Tagalog, English and German
Member since:
05 March 2017
Last activity:
28 December 2021
Hello!

My name is Judelyn. I am a Filipino citizen living in Germany and have been collecting stamps on and off for 30 years. I collect stamps around the world and I'm looking for stamps from South America, Africa, Asia and Middle East countries. I would love to receive Food, Film, Lighthouse, and Cartoons themed stamps. If possible please no CTO and German stamps which I already have a lot of them.

Thank You and Happy Collecting!