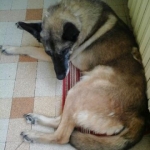 Lots sent:
40
Lots received:
39
Lots in progress:
2
Stars received:
4.93
Country:
France
Languages:
French, English
Member since:
09 May 2020
Last activity:
19 November 2020
Hello, I'm Cécile. I'm french.

I'll be glad to receive in priority used recent stamps (after 2000) from Andorra, Monaco, Belgium, Spain, Italy, Greece, Canada, Australia and Japan. From France after 2010.

Secondly, recent worldwide stamps (after 2000) and for my thematics : castles, cats ans cars (any year will be ok).

No definitive or common or damaged stamps please.
No CTO please except for stamps of castles, cats and cars

Best regards.