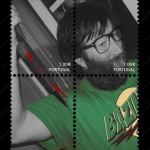 Lots sent:
66
Lots received:
59
Lots in progress:
0
Stars received:
3.88
Country:
Portugal
Languages:
Portuguese, English, Spanish, French, Japanese
Member since:
09 August 2015
Last activity:
03 April 2017
Hello stamp collectors :)

We (my father and I) love stamps!

Some themes I like: Comics/animation and Asian Countries.
Some themes my father like: Soccer and European countries 90s-00s.

Mint or used, that's ok with me, CTO's and definitives no please. And for now don't send me stamps from Australia!

So let's trade!!!!