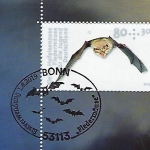 Lots sent:
20
Lots received:
18
Lots in progress:
0
Stars received:
4.95
Country:
Germany
Languages:
German, English
Member since:
18 August 2019
Last activity:
03 January 2020
Hello, dear friends.
Would love to receive used animal motive stamps worldwide.
I like older stamps with animal topics too, especially former colonies worldwide, occupied areas, german occupation zones.
No CTO and not too many definitives, please.
And by the way: Be sure, I have all German stamps. ;-)))

The best idea is to send a choice, as how do you would like to receive.
Thanks.