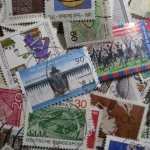 Lots sent:
113
Lots received:
114
Lots in progress:
4
Stars received:
4.77
Country:
United States of America
Member since:
06 January 2016
Last activity:
26 May 2018
--- I collect West Germany, Federal Republic of Germany, BRD, "Deutsche Bundespost" stamps that you can send on- or off-paper, on postcards, covers, FDCs, and postal cards (stamp printed on postal stationery). All that will help build my collection and will be highly appreciated!

--- If you don't have any of those, don't worry! You can send used commemorative stamps from any country provided they aren't too old (from 1990 onwards is fine). Do not send too many definitives, no Christmas, no Ajman/Fujeira/Sharjah.

--- Keep in mind that this is a USED stamp swap club. Mint (uncirculated), CTOs (gratuitously-cancelled, gum on back), cinderellas, or faulty/damaged stamps will downgrade your sending.

Letters sent and lost/non-registered: US-523 (to fiolduncan, Italy; profile=dead), US-655 (zorad, Brasil; profile=dead), US-698 (rosita, Chile; profile=dead), US-736 (rodri, Argentina; profile=dead), US-867 (nelu, Romania; profile=dead), US-952 (josip, Croatia; profile=active).