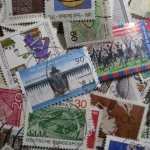 Stars received:
378
Lots sent:
80
Lots received:
81
Lots in progress:
3
Country:
United States of America
Member since:
06 January 2016
Last activity:
21 August 2017
--- Hi! I'm a collector of West Germany or Deutsche Bundespost stamps: used stamps, stamps on paper, on postcards, envelopes and also postal cards (the stamp is imprinted on postal stationery) are all highly appreciated! Thanks!

--- If you don't have any of those, don't worry! You can send used commemorative stamps from any country provided they aren't too old (from 1990 onwards is OK). Please, do not send too many definitives, no Christmas, no Ajman/Fujeira/Sharjah.

--- Remember to adhere to the 100stamps club rule of 100 good condition used stamps! Do not send mint (uncirculated) stamps, no CTOs and no faulty stamps.

Thanks for exchanging!