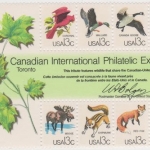 Lots sent:
48
Lots received:
49
Lots in progress:
2
Stars received:
4.77
Country:
United States of America
Languages:
English
Member since:
09 November 2016
Last activity:
05 December 2018
Hello from Oregon, USA!
My name is Beck and I collect the world.
I especially enjoy:

NATURE

ART (no more CTO's please)

HOLIDAYS like CHRISTMAS (religious and Santa and winter), EID, NEW YEAR, EASTER,PASSOVER

TRADITIONAL COSTUMES / MILITARY UNIFORMS or WEAPONRY.

and ARCHITECTURE especially newer issues, after the year 2000.

Also I like stamps that show human creativity such as MAPS, SHIPS, HOT AIR BALLOONS.

I don't collect heads. And please only a few CTO's in my thematics.

Please mail your envelope with real postage stamps.