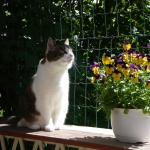 Lots sent:
168
Lots received:
174
Lots in progress:
0
Stars received:
4.62
Country:
Finland
Member since:
19 June 2015
Last activity:
19 June 2018
Hello stamp collectors :)

* Please just be fair and just send same quality stamps that you want to receive too *

----------------------------------------

100 stamps club rules are simple: Unique stamps, no doubles. Stamps in good condition.

----------------------------------------

My favourite collections are topics (not cto):

* elephant (in this topic i do keep also cto in case i never find the used or mint issue)
* cat
* zodiac / lunar year
* food / drink
* children book / cute characters
* heart / love

also WWF, owl, sea turtle/tortoise, polar regions, marine life, birds...

And some countries Im interested in: Macau, Hong Kong, Taiwan, Nordic countries, Baltic countries, Belarus, Ukraina, Canada, Ireland, South Korea ...I also like Europa as well as nature, flora and fauna in general, and Japan -but the common definitives I probably had many times.

- personally i do not like people on stamps, especially the head definitives -

Any commemoratives are preferable :) Nice covers are very much appreciated as well as kindness and sincerity ! I like postmarks too. I feel sad because of some rude attitudes and unfairness in this club :(


Lost envelopes: FI-1, FI-58, FI-183, FI-238, FI-245, FI-325, FI-444, FI-708...