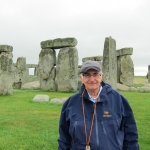 Lots sent:
321
Lots received:
299
Lots in progress:
1
Stars received:
4.93
Country:
Canada
Languages:
English, French
Member since:
07 March 2017
Last activity:
14 November 2019
Hi ! I have been collecting stamps for many years.

I collect mainly used stamps that are postally used (No CTO please).

I would like to receive recent commemorative stamps (after 2005). No definitive stamps.

My favorites countries are: France, Balkans, Baltic, Scandinavia and Caucasian countries (Armenia, Georgia, Azerbaïdjan). If you don't have recent stamps from those countries, recent commemoratives stamps from your country are welcome. No US stamps before 1990.

I also collect millenium stamps, lighthouses and Personalised postage stamps.

I can answer in French or English.