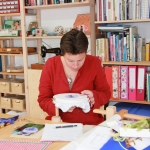 Lots sent:
245
Lots received:
260
Lots in progress:
6
Stars received:
4.85
Country:
Germany
Languages:
Dutch, English, German
Member since:
02 August 2016
Last activity:
19 February 2019

fairytale78 is a club supporter
I am a 40 year old Dutch archaeologist and an embroideress. Together with my husband and the cats Timmie and Sammie I live in a small rural village in the beautiful Bavarian Alps. Due to my professional career, I have lived in several parts of Germany, the Netherlands and the United Kingdom. Ever since I was three years old, I've collected stamps. They are a perfect way to learn about other cultures. I collect both mint and stamped from around the globe. Please no CTOs, or definitives and no stamps on paper. Please take care to only include undamaged stamps. As I am a Dutchie living in Germany, I'd rather not receive German or Dutch stamps.