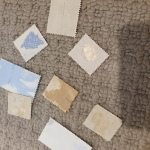 Lots sent:
72
Lots received:
73
Lots in progress:
1
Stars received:
4.63
Country:
Australia
Languages:
English
Member since:
21 August 2017
Last activity:
07 July 2020
I like to collect Australia, new Zealand, south Africa, united Kingdom and Ireland but I am open to receiving whatever you can offer :)

I also like animals dogs, dinosaurs, horses anything cute.
Disney or popular cartoons

My kid likes looking at my collection any of these following themes they like (they don't have to be the best quality)
snakes, dinosaurs, shark anything creepy really :P and if you are sending them for my collection you can double up on them so I can give the other to them.

Again just a guide send what you can. I'm not fussy with CTOs definatives and all that. Someone elses trash is anothers treasure!