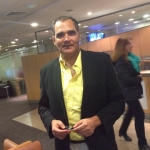 Lots sent:
102
Lots received:
92
Lots in progress:
8
Stars received:
4.58
Country:
Chile
Languages:
Español, Francais, Portuguez, English
Member since:
21 January 2016
Last activity:
14 February 2020
Soy un coleccionista amateur de sellos usados y nuevos. Prefiero sellos de colonias o de BERlin, SAAR, Baden, Bayern, etc. Colonias de paises europeos o asiaticos. Si no es posible, sellos de tu pais tambien son bienvenidos, especialmente pasteriores a 1990. Favor abstenerse de sellos de Rumania, Polonia,Hungria, Alemania (anteriores al 2000). No CTO, sellos no conmemorativos y sellos pequeños. Favor envia tu carta con sellos y ojala certificada con numero de seguimiento.Muchas gracias

I´m an amateur colectionist of used and mint stamps. I prefer stamps from european or asian colonies or territories. Also from BErlin, Saar, Baden, Bayern, etc. If not posible, stamps from your country are welcome, spetialy after 1990. Please No CTO´s definitives,or small one. Please not send me German stamps before 2000, i have a lot. Please not send me stamps from Hungary
(Mayar Posta), Rumania (Romania) and Poland (Polska)
Please send the enveloppe with stamps and whith track number...Thank´s a lot.