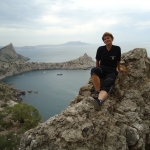 Lots sent:
33
Lots received:
30
Lots in progress:
0
Stars received:
4.36
Country:
Russia
Languages:
русский,english
Member since:
16 October 2017
Last activity:
17 February 2019
Hello! My name is Elena. I live in Crimea, it's a beautiful peninsula in the south of Russia.
I collect stamps:
1. space, cosmonautics
2. sport
3. stamps of nature ( dinosaurs, mammals, snakes, fishes, frogs, fruits).
4.Palaces
5.Stamp on stamp
6.ethnography, traditions, art and appearance of the peoples of the world

if you do not have stamps on these topics, I will be happy to receive stamps from the countries:
Japan, China, New Zealand, South Korea, Thailand, Malaysia, Australia,Iran,Iraq, stamps from islands, countries of Central and South America and Africa. Or interesting stamps of your country (2000-2018 years)
I accept CTO as long as those themes that I mentioned.

PLEASE don't send:
any definitives
stamps from Germany.
I have a lot of them, nowhere to put.