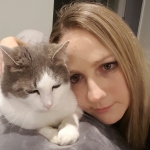 Lots sent:
115
Lots received:
126
Lots in progress:
0
Stars received:
4.98
Country:
New Zealand
Languages:
English
Member since:
02 January 2017
Last activity:
22 March 2020
Hello I'm Emily, a kiwi girl, and I love all stamps! I live in a rural area, nearby to the world famous Hobbit Movie Set tour.

My main country collections are:
New Zealand (Already a big collection, missing mostly high face value commemoratives)
Australia (Big collection, would love 2010+ commemoratives)
Netherlands (Big collection, very keen for 2000+ commemoratives)
England (very keen for 1995+ commemoratives)
Pacific Islands (I don't have many yet, any gladly accepted)

I would gladly receive any stamps on the following themes/topics:
Odd shaped & die cut stamps
Cats, domestic & wild
Butterflies
Insects
Fruit & vegetables & nuts

Unless they are on the topics above, please if it's possible for you I would prefer not to receive any more stamps from Hungary, Poland, Russia and Romania.

I also like recent stamps from the last 10 years, cute stamps, animals, marine life. If it looks beautiful, lovely, attractive...then I'll appreciate it :-)

About CTOs; I don't hate them like many on here, but since nobody wants them, I would prefer only CTOs on my themes listed above.