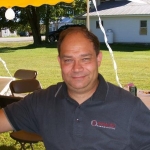 Lots sent:
2
Lots received:
2
Lots in progress:
0
Stars received:
5.00
Country:
United States of America
Languages:
English
Member since:
29 January 2019
Last activity:
23 April 2019
Retired US Marine Corps Veteran. Enjoy Stamp collecting WW Stamps, USA, ok almost any country. Have a good start on Poland, Monaco, Ireland, Great Britain, USA. Collect Trains, Ships, Airplanes of the world. I use the stamps as a learning tool. I spend maybe too much time researching interesting subjects,
I do have a Job as an Aircraft Mechanic for the Navy and Marine Corps keeping the older aircraft overhauled. We have 6 kids, 2 dogs, and a Bearded Dragon. Active in outdoor sporting activities.