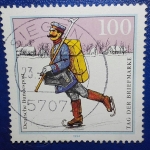 Lots sent:
59
Lots received:
60
Lots in progress:
4
Stars received:
4.71
Country:
France
Languages:
German, French, English, some Polish
Member since:
10 November 2016
Last activity:
21 November 2018
Stamp collector living in France, but my stamps grew up with me in Germany, so this country forms the biggest part of my collection.

** Please send me only stamps from normal postal use, no CTOs! **

TOPICS
- Politics/society/commemorations/history
- Urbanism/cities/public transport/road safety
- Trees/forests
- Squirrels

COUNTRIES
(from the following countries, I am interested in *commemoratives only*)
- France, Portugal (old and new stamps welcome)
- Poland (after 1990)
- Berlin, DDR (postally used commemoratives only!)

(from the following countries, I am interested in every kind of *postally used* stamp, definitives and commemoratives, no CTO!)
- Lithuania, Latvia, Estonia
- Former Yugoslavia (before WW2 and new independent territories/countries after 1992)
- Albania
- Moldova
- Historic/no longer existing states and ex-colonies
- Deutsches Reich, Saargebiet, former German Territories, Occupation Zones after WW2

If possible, please DO NOT send stamps from the following countries, as I already have a lot:
Western Germany (after 1960), UK, USA, Canada, Finland, Norway, Denmark, Sweden, Netherlands, Spain, South Africa, China, Japan, Australia, New Zealand

Thanks for reading, if you can fulfill some parts of the wishlist it would be great.