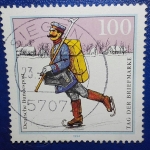 Lots sent:
64
Lots received:
68
Lots in progress:
0
Stars received:
4.73
Country:
France
Languages:
German, French, English, some Polish
Member since:
10 November 2016
Last activity:
30 July 2019
Stamp collector living in France, but my stamps grew up with me in Germany, so this country forms the biggest part of my collection.

** Please send me only stamps from normal postal use, I will not give positive rating for sendings with CTOs (that means gum left at the back, mass production stampmarks added for "collectors") **

TOPICS
- Politics/society/commemorations/history
- Urbanism/cities/public transport/road safety
- Trees/forests
- Squirrels
(postally used *no CTO* commemoratives worldwide before 1970 welcome!)

COUNTRIES
I am interested in commemoratives (and some interesting definitives series, but please avoid the common heads/numbers-series)!
Old and new stamps welcome!
- France, Portugal, Belgium
- Poland, DDR, Former Yugoslavia as well as all former and new independent territories/countries from this region (only postally used stamps please, no CTO!! (see above))
- Lithuania, Latvia, Estonia
- Albania, Moldova
- Historic/no longer existing states and ex-colonies
- Berlin
- Deutsches Reich, Saargebiet, former German Territories, Occupation Zones after WW2
- Germany before 1960 and after 2017

If possible, please DO NOT send stamps from the following countries, as I already have a lot:
Western Germany (1960-2015), UK, USA, Canada, Finland, Norway, Denmark, Sweden, Netherlands, Spain, South Africa, China, Japan, Australia, New Zealand, Argentina, Brasil

I am not specially interested in stamps about Christmas and Sports, but many other collectors are, you should keep these for them :)

Thanks for reading, if you can fulfill some parts of the wishlist it would be great.