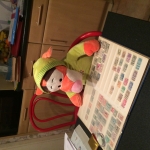 Stars received:
30
Lots sent:
6
Lots received:
6
Lots in progress:
1
Country:
Belgium
Member since:
07 October 2017
Last activity:
16 January 2018
Hello,
My name is Paul. I live in Belgium and I am 62 yo.
I collect worldwide used stamps, all periods, all thematics
I accept some CTO's. Please avoid 'big' philatelic countries like USA, Canada, Australia, Germany, France and ... Belgium.
Looking forward to your exchanges !