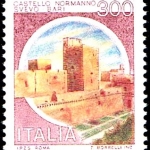 Lots sent:
12
Lots received:
11
Lots in progress:
0
Stars received:
4.42
Country:
Italy
Languages:
Italiano, English
Member since:
16 June 2017
Last activity:
15 January 2019
Hi, I'm an Italian collector. I am back to stamps collecting after 30 years of interruption.
I prefer stamps from Europe, however stamps from any country are welcome.
Just send me stamps from YOUR country.
Please do not send me too many definitives or CTOs.