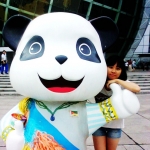 Lots sent:
11
Lots received:
7
Lots in progress:
0
Stars received:
4.64
Country:
China
Languages:
Chinese,English
Member since:
22 May 2017
Last activity:
19 April 2018
Hi my friend:

I am Feng, 28, live in GuangDong CHINA.

I like all kinds of stamps, If possible , please NO Germany anf Holland ,because i have a lot of them.
the stamps about "lotus" / "love" /"water lily"/"Classical stamps "...theme are very great!
but please no CTO.

The beautiful commemorative and special stamps or somethings like coins ,ticket ,banknotes...and so on are bonus surprise for me.
Also love postcards from all over the world .

Happy stamps exchanges!
Thank you all in advance!