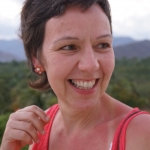 Stars received:
688
Lots sent:
141
Lots received:
146
Lots in progress:
4
Country:
Canada
Member since:
13 October 2015
Last activity:
19 October 2017
Hello from Canada!

I'm the mother of two wonderful daughters, they like to exchange postcards worldwide and that's how I discovered this website.

I'm a stamp collector since 2008.
I love travelling, discovering different cultures, it's the reason of my interest about philately.


My favorites themes are:

- Laces (craft)

- Ladybugs

- Social causes (literacy, child protection, tobacco, alcool & drug fight, environmental protection, human rights, breast cancer, etc.)

- International Food (meals, fruits, vegetables)

- Clocks

- Bicycles

My favorites countries are:

- FINLAND / ALAND
- NORWAY
- SWEDEN
- DENMARK
- ICELAND
- FAROE iSLANDS
- BALTIC COUNTRIES: Estonia, Latvia, Lithuania
- Hrvatska
- Thailand


No Canadian and USA stamps
No old stamps

Thank you ! I love feeling to receive mail from around the world... with beautifull stamps !!!!