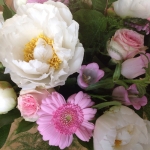 Lots sent:
26
Lots received:
28
Lots in progress:
0
Stars received:
4.62
Country:
Netherlands
Languages:
Dutch, German, English, French
Member since:
11 June 2016
Last activity:
25 July 2018
Hi!

I collected stamps as a child together with my dad. Now I picked up my old hobby again.
My two boys are also collecting. They like trains, cars, planes, ships and dinosaurs.

I don't keep everything in an album. I also use stamps in crafting projects.

My favourites are:
Birds, especially owls
Flowers
Mushrooms
Butterflies
Lighthouses
Children's stamps
Children's books illustrations
Book theme
Stamp theme
Postal theme
Animals

I like the newer stamps from Germany.

I also like airmail labels!

Please put real stamps on your envelope, thank you!