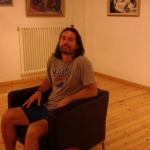 Lots sent:
17
Lots received:
18
Lots in progress:
0
Stars received:
4.29
Country:
Germany
Member since:
24 May 2018
Last activity:
31 August 2018
Hi,everybody!I am a new collector.I collect Italian occupations of Slovenia and Montenegro in II WW,Austro-Hungarian occupation of Serbia and Montenegro in I WW,German occupations of Serbia,Montenegro,Macedonia,Slovenia,Zara and Albania in II WW,also German occupation of Guernsey,Kotor,Alsace,Kurland,Estonia,France,Lietuva,,Fiume ,NDH and Trieste Zone B.
I also started to collect Hong Kong,Japan Empire and Japanesse occupations in II WW,France and Britain collonies , old Germany,German and Italian collonies and Russian zone after II WW.If you haven´t any of them,please,send me stamps from your country before 1945 .My mail is
paunovic.goran.70@gmail.com
I am interested in old stamps.I haven´t stamps from 21. century.
I also started to collect North Korea,Albania,SSSR til 1950 and Yugoslavia overprinted stamps,Tanu Tuva,Afganistan and Syrie.

I haven´t new stamps.I can offer Nederland,German,Austrian and Yugoslavian stamps til 1990.