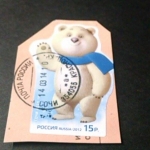 Lots sent:
129
Lots received:
120
Lots in progress:
0
Stars received:
4.75
Country:
United States of America
Languages:
English
Member since:
22 February 2017
Last activity:
06 August 2020
Hello, I am a worldwide collector and collect used ww stamps. I do have a special interest in stamps of birds, fish, animals, sea life and lighthouses. Any WW recent (2000-update would be most welcome especially USA after 2005 (ONLY) Russia after 1991 and any of Croatia and Ukraine. I would love any stamps of Canada after 2005. My 10year old Grand daughter wants to collect stamps of Fish so please add a few Please.

Or any stamps from your country would be welcome.