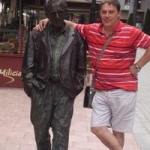 Lots sent:
34
Lots received:
38
Lots in progress:
0
Stars received:
4.79
Country:
Spain
Languages:
Spanish, English, French and Italian
Member since:
24 April 2017
Last activity:
18 April 2018
Hi friends.
I collect used and mint stamps.
I look for used stamps from America,Europe and Oceanian countries too. Please, No German stamps( I have a lot quantity of them)and Comunist European East countries ,CTO and definitives stamps won't be good received
I collect mint stamps of the next topics
Europe Cept,Fauna (no East European countries, Cuba, China and old Soviet Union countries)
Olimpics games.