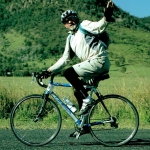 Lots sent:
21
Lots received:
23
Lots in progress:
0
Stars received:
4.67
Country:
Australia
Languages:
English
Member since:
13 January 2016
Last activity:
28 August 2017
I am a 73 year old ex Physical Education and Mathematics teacher.
My home city is Bendigo (Pop. 120,000) in the centre of State of Victoria the southern most mainland state of Australia.

My main interests are Sport, Sport, Sport, my Vegetable Garden, Cycling, collecting & of course my wife of 49 years - Sherrill.

I have one daughter - an outstanding Fiddle Player -who is lives in France and a second daughter living in Canberra who has recently had her 13th Urban Romance novel published.

My collecting interests in general terms are Australian (decimal and pre decimal), Greek and most recently - Katanga.

Specifically I collect Australian International stamps & Australian Postmarks. I also collect Australian Slogans, Covers, Aerogrammes, Perfins, Koala/Kangaroo reprints and postal stationery.

I am not a thematic collector, but I have small collections of stamps depicting Bread & Bread Making, Glass Blowing, Mathematical Equations & Expressions, Sundials, Clocks /Watches, instruments that measure weather, Clowns & Rabbits.
I am always looking to add to these a collections.
I am also interested in Inflation Period stamps from any country ( mint or used examples)

Any stamps are welcome, but.......
Presently (Feb 2017) I do not require any Australian general issues, except for those items listed above.

I am the Secretary/Treasurer of the Bendigo Philatelic Society and a member of the Bendigo Coin and Collectables Club.

Stamps that I receive that are not in my collecting sphere will be offered to fellow
members of the B.P.S.

My other collecting interests are Australian Decimal Banknotes, Greek Banknotes, Tuckfields Tea Bird Cards, Playing Card Jokers ( I have 700+ different Jokers) and local ephemera.