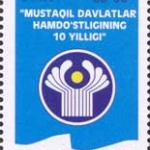 Lots sent:
2
Lots received:
3
Lots in progress:
3
Stars received:
5.00
Country:
Uzbekistan
Member since:
28 October 2017
Last activity:
22 March 2018
Hello,
My name is Shukhrat. I am stamp collector from Republic of Uzbekistan.
I collect used stamps of Russian Federation also I have interest in next countries: Abkhazia, Armenia, Azerbajan, Belarus, Dniester Moldovan Republic, Donetsk People's Republic, Estonia, Georgia, Karabakh, Kazakhstan, Kyrgyzstan, Latvia, Lithuania, Lugansk People's Republic, Moldova, Tadjikistan, Turkmenistan, Ukraine, USSR (only before 1950 year!), Vatican State.
Please do not send CTO's I am not collect these ones!
If you have not stamps I listed I would be glad any stamps.
Every complete series are interesting for my exchanges!
Recent stamps from your country are welcome!
Please take care to only include undamaged used stamps.
I am always ready also for personal exchange with collectors who are interested
in used stamps from the countries I listed upstairs.