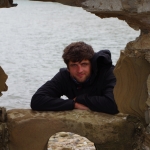 Stars received:
31
Lots sent:
7
Lots received:
7
Lots in progress:
0
Country:
Germany
Member since:
28 March 2017
Last activity:
21 October 2017
Hi,
my name is Nathan, I am 30 years old and live near the famous Black Forest in southern Germany.
I collect worldwide used stamps since I was a kid.

The easiest way to make me happy, is to send me recent stamps (2000-today) from anywhere but Germany.
I especially like unusually shaped stamps.

definitives from the following countries are fine for me:
- Andorra, Monaco, Greenland, Iceland, Albania, Moldova, Bosnia-Hercegowina, Macedonia, Slovenia, Serbia, Montenegro, Lithuania, Armenia, Azerbaidjan, Georgia, Kosovo, Ukraine, Aland, Faroer
- South America (except Brasil and Argentina)
- Central America (except Nicaragua and Mexico) + Carribean (except Cuba)
- Africa (except South Africa, Egypt, Tunesia, Algeria, Marocco)
- Pacific Islands
- all -stan ending countries (except Pakistan)
- Nepal, Bhutan, Maledives, Brunei, Bangladesh, Syria, Jordan

From all other countries please send only commemoratives if possible.

My favourite countries would be the countries mentioned above plus:
- Estonia, Latvia, Russia, Japan, any kind of colonies and territories, Croatia, Finland, Slovakia, Czech Republic, Malta, Cyprus, Channel Islands, Mexico, Israel, Portugal, Singapore, Belarus

Please don't send:
damaged stamps, German stamps, CTO, definitives from other countries than mentioned.

If you are not sure, what to send, just ask me.

Thanks for your effort.