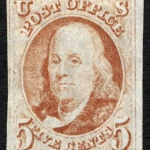 Lots sent:
8
Lots received:
8
Lots in progress:
0
Stars received:
4.50
Country:
United States of America
Languages:
English
Member since:
23 December 2017
Last activity:
18 June 2018
I collect all World-wide stamps, and stamps of all periods, although I have always preferred stamps prior to 1970. With the availability of Steiner pages, I also have begun going after newer issues: especially Germany, Great Britain, Canada, France, Russia and former Soviet Republics. I do not specialize, but if I did, it would most likely be Soviet influenced countries. I would prefer not to receive stamps from Equatorial Guinea, Oman, Ras Al Khaima, Ajman/Manama and countries of that sort .... however, I will not turn them away. I would also prefer not to receive US definitives, especially Forever stamps. Lastly, I do not care for souvenir sheets.

Please note: When sending stamps, I do my best to comply with your preferences, as well as ensuring I do not send damaged stamps. However, please keep this in mind - I have only persued stamps prior to 1970 until recently, so the only time I have acquire newer stamps is through trading. So, if your preference is newer stamps, please do not hold it against me if I send you stamps that are older than you prefer. I will also do my best if you are a theme collector.

Now, a little about me. I have been collecting stamps since I was 5, which is over 40 years. I can still remember sitting at the table with my Harris Traveller waiting for my parents to finish sifting through a batch of stamps they had received so I could get my turn. About 15 years ago I went on hiatus, not because of lack of interest, but lack of easily and affordably obtainable stamps and supplies, although I still saved stamps received in the mail both at home and work. About 2 years ago, after moving into an area that had a very prolific stamp and coin shop, so I now had the availability of supplies. There, I met a gentleman that bought entire collections, took what he needed, and then would sell off the remainders dirt cheap. But, generally, the newest stamps were 1970-80. The past few months I have been actively trading in online groups, facebook groups and buying on E-bay as well trying to get the newer stuff.